A CONCENTRATE OF RED AND BLACK FRUITS
Story
The story
Since 2006, the Quiot Family, charmed by the Dentelles de Montmirail and its products of character, owns the Château du Trignon in order to perpetuate it, while expanding it by 10 ha of Vacqueyras and few hectares of Beaume-de-Venise.
"Respectful of achievement but rich of our wine-maker knowledge, we have adopted this land whose singularity fits in with all our others properties, in the same line of tradition, quality and adaptation."
Location
In the Middle Ages, crossing this vast scrubland forest, at the mercy of the rascals, deserved that we surrender our soul to God. It is probably to this legend that the Plan of God owes its name. Since then, the vine has colonized this territory. Today it extends over 1,500 hectares at an altitude of 110 meters. The few woods still present are scattered in the heart of this vineyard set on a bed of red clay and a multitude of large rolled pebbles that sink into the ground up to ten meters deep. Due to this considerable thickness, the soils are skeletal and produce little: hardly more than one bottle per vine! On this terroir, their combination gives brilliant and colorful wines, dense and concentrated. On the nose, they remind the surrounding scrubland: thyme, bay leaf and undergrowth. The vineyard was consecrated in 2005 to Côtes du Rhône Villages with geographical denomination, an appellation which applies only to reds.
Terroir
Regarding the appellation, this fairly uniform terroir corresponds to the vast alluvial terrace formed by the Aigues and Ouvèze at the time of the Riss 2 or 300,000 years ago, topped with limestone gravel dating from the Era of the Quaternary. These pebbles are based either on blue clay from the Pliocene, or on sandstone saffres, ensuring rising humidity which relatively preserves the growth of the vine during the summer drought. On the domaine, the terroir is a vast alluvial terrace rich in pebbles.
Vinification
Total de-stemming. Vatting time : 3 weeks. Matured in vats.
Varietals
Grenache - 歌海娜
Syrah - 西拉

Specifications
Alcohol content: 14 ABV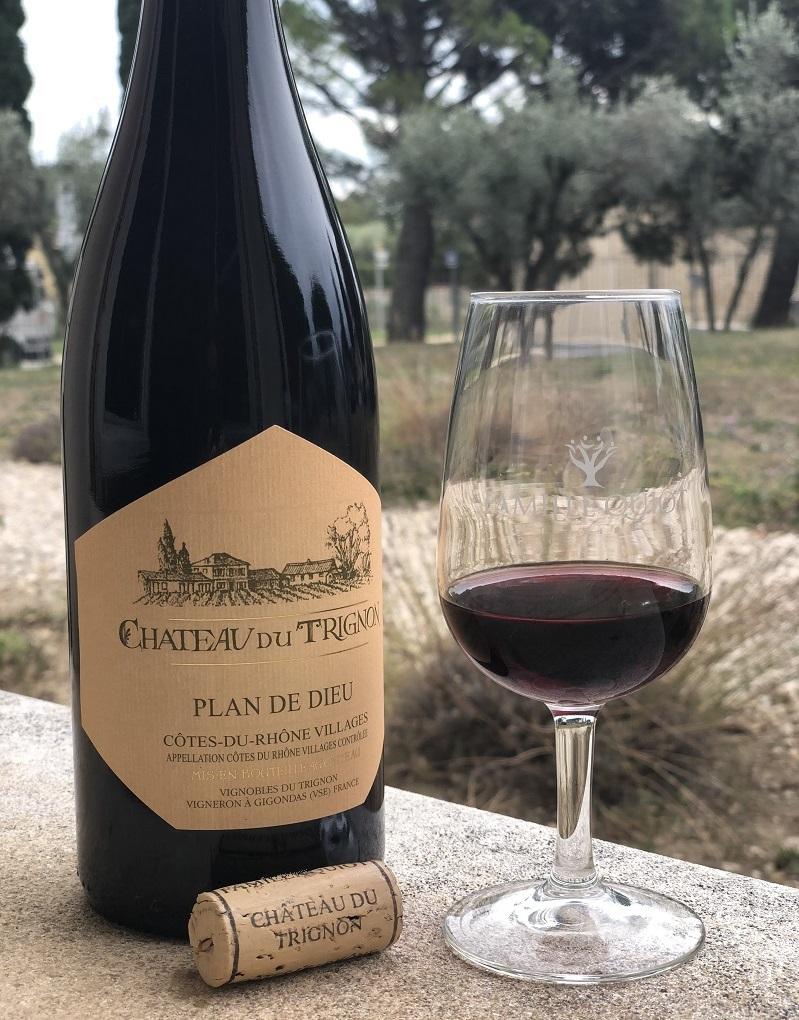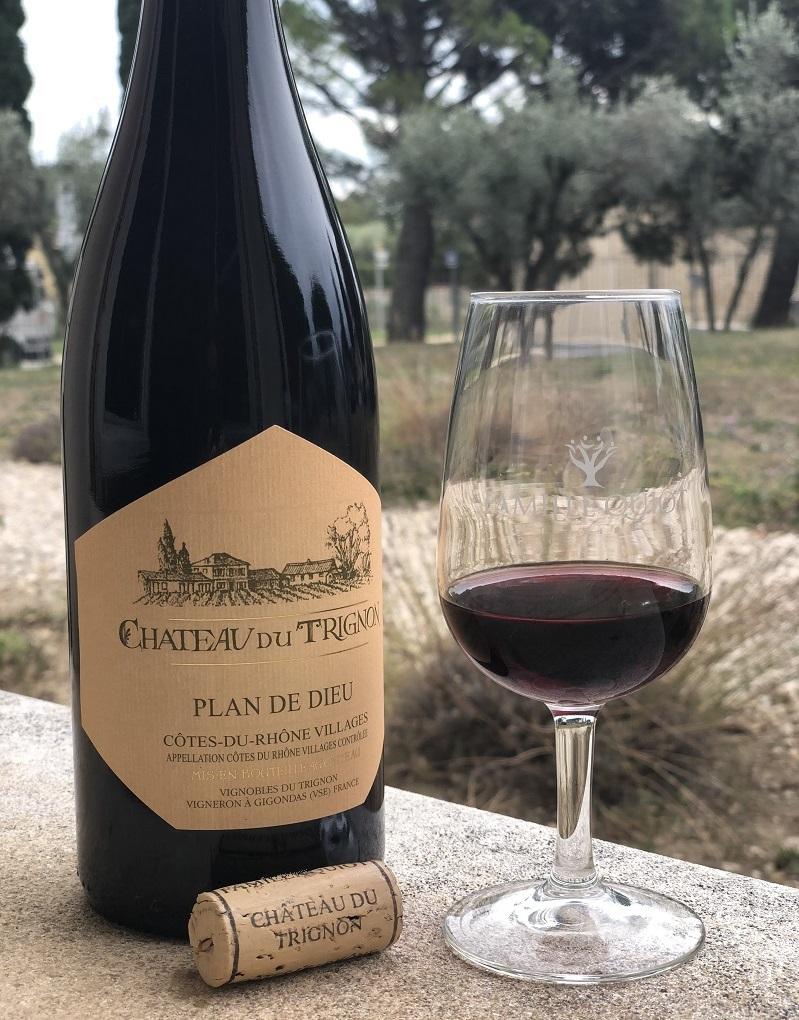 Advice
Serving
Although this wine doesn't necessarily need to be refreshed, you can slightly cool it so that it becomes more refreshing, especially during the summer heat.
Ageing potential
2 to 3 years, 5 years
Tasting notes
This blend (mainly Grenache and Syrah) gives the Village Plan de Dieu appellation wines that are concentrated in aromas, with a rich flavor combining red fruits, spices and garrigue scents, which evolve over time towards tones of leather, anise and liquorice.
On our Château du Trignon, you can enjoy in our bottle:
A very deep garnet color.
On the nose: morello cherry, liquorice and tapenade.
In the mouth: blueberry. Complex, fat and long wine.
Food and wine pairings
Provencale stew and poultry.